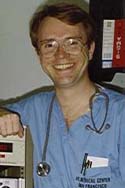 Specialties:
Cardiac Physiology & Function: Over the last 30 years I have investigated the etiology and treatment of perioperative cardiac morbidity. I have worked and published on numerous human and animal studies investigating the natural history, therapy, and prevention of cardiac morbidity
Biomedical Engineering: Design, development, and testing of devices for use in anesthesia and cardiac surgery.

Clinical Research: State-of-the-art design, implementation and data analysis for clinical research. Custom algorithm development and implementation.
Cardiac Engineering * AVx Medical * In the News * Cardiac Biomechanics Lab
---
Recent and On-going Research Projects:
AVx Medical and AVD System
L-ARG CABG Study
Clonidine Study
IMST (In-vivo Myocardial Stiffness Transducer) Study
Aneurysm Study
Myocardial Mechanics: Epicardial, Myocardial, and Infarct: Diastolic Mechanics
Non-Invasive Monitoring
Thoracoscopic CABG Study
EPI I and II Study
Mivazerol Study
Cytokine Study
Draflazine Study
Atenolol Study
Warm Cardioplegia Study
Acoustic Quantification Study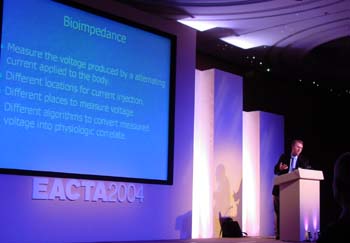 Lecturing on Bioimpedance at the 2004 EACTA conference, London UK
Professor
Department of Anesthesia
and Perioperative Care
University of California San Francisco

Write: Art Wallace, MD PhD
VAMC Anesthesia (129)
4150 Clement Street
SF, CA 94121

Voice: 415-221-4810 Ext 3732;
Fax: 415-750-6946
Curriculum Vitae I: Recent and On-going Research Projects
Curriculum Vitae II: Education, Teaching, Public Service, etc.
List of Publications and Bibliography