[ Research Design & Data Analysis ]

[ Clinical Trials ]

[ Biomedical Engineering ]
---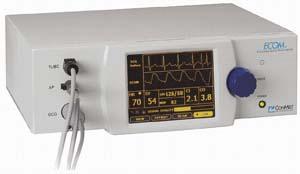 ECOM is a minimally invasive cardiac output monitor designed and tested in the Cardiac Engineering lab. It has received FDA 510K approval and is marketed by EcomMedical. http://ecommedical.com/
Literature: "ECOM: Endotracheal Cardiac Output Monitor" Wallace A, Salahieh A, Lawrence A, Spector K, Alonso D. Anesthesiology 2000;92:1-12. This study represents four years of physics and computer science; electrical, mechanical, and biomedical engineering; as well as chronic animal and human testing for the development of a new clinical device for the measurement of cardiac output. The ECOM device has received FDA 510K approval and is now being marketed.

Click here to see a video of ECOM in action


Click here for more ECOM monitor images

---
AVD system: We have completed a 103 patient clinical trial of the AVD system. http://www.atapir.com/
---
Hearten: The Hearten Project was a radiofrequency device designed to allow treatment of left ventricular aneurysms without use of
cardiopulmonary bypass. We tested the system in an animal model of heart failure and then assisted in clinical testing in patients undergoing CABG surgery.
---
We are in the design stages for several other devices.